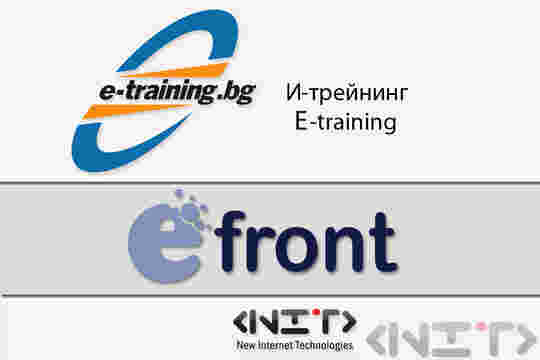 Е-TRAINING Ltd. offers to its clients an innovative system of training, combining the best software solutions and pedagogical practices. The center employs professionals with many years of experience in the field of business training.
The courses offered, both face-to-face and distance, are in the areas of management, marketing, and sales, human resources and training. The individual approach adopted by the company satisfies the client's requirements and leads to excellent results.
Е-TRAINING Ltd. offers the development of training that specifically addresses the products, cases, and problems of consumers, so as to cover their specific needs to the maximum. It also provides an opportunity for simultaneous training of the professional competence of employees with different experience and experience in the company.

Е-TRAINING Ltd. conducts an examination of the knowledge, competence, and attitudes of the employees, both together and independently. The company supports the evaluation and certification system. Not only does it train, but it also controls each worker, giving him the opportunity for feedback and teamwork.

Distance learning makes it easier not only for students to study from anywhere in the world but also for reducing the costs that would be incurred in attending classes.

The company maintains a special forum in which students are required to participate in discussions and discuss issues. Therefore, their effectiveness is more enhanced than in attendance hours, where very few of the trainees are active.

Each training topic is in SCORM format and contains an entrance test for establishing initial competence, basic content that includes text, audio and video presentations, practical tasks for individual preparation and group work, an examination test to determine the level of competence after training, additional materials and personal consultation.

NIT - New Internet Technologies Ltd. provides to Е-TRAINING Ltd. a training system that has an option for educational advancement for each individual student. This helps to provide assistance to the training leaders.
The advantages of Е-TRAINING Ltd. are the personal experience from the managerial positions, the excellent knowledge of the Bulgarian practice, the experience as external consultants on a number of projects, including for multinational companies.
The main purpose of Е-TRAINING Ltd. is to assist its clients in the development of a marketing vision that, through business training and up-to-date information, can jointly become a successful and prosperous business.