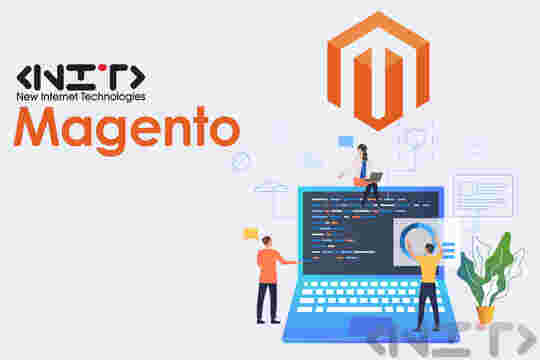 Magento has an exclusive user interface, individual configuration options, support for different languages ​​and currencies, templates for mobile devices, SEO tools and more. Clients of Magento are brands such as Samsung, Ford, Lenovo, Olympus, Nike, Men's Health magazine and many others.
Magento is available in 2 versions - Magento Community Edition and Magento Enterprise Edition .
Magento Open Source (Community Edition)
This is open source software and can be downloaded for free from the official website of the manufacturer. Its functionalities are less, but quite enough for the purposes of most online retailers. This version of Magento (as well as Magento Enterprise Edition) has design customization options; ability to control the look, content and options; intuitive interface, marketing tools; search engine optimization; tools for managing the created catalog.
However, the availability of the product does not mean that its original appearance ensures readiness for use. There are many things that need to be done so that in the end you get a working product.
Although it is open source software , you need solid programming skills to set up and customize an online store created with Magento Community Edition . Although free resources are available to learn from, the process can take a lot of time and effort.
For this reason, companies often turn to developers with experience with the platform for help.
Magento Enterprise Edition
This version of Magento is paid, the license is quite high, but we can not deny the fact that the price is completely justified. With Magento Enterprise Edition , you get countless opportunities to increase your sales and attract new customers. Thousands of extensions have been created for it, and its flexible architecture allows adding additional functionalities and integration with other similar systems.
The software can be used on both desktop and mobile devices.
It is preferred for use by large and fast-growing companies that can count on qualified support for their online stores.
Magento Enterprise Edition offers a wide variety of features, including:
• advanced functionality of the content management system;
• well-developed tools for managing the created catalog;
• full lamination of pages;
• improved search option;
• many others
How much does an online store made with Magento cost?
If you have chosen to build your e-shop with Magento, you probably want to know how much it will cost. The price depends on a number of factors, such as the size of the online store (number of pages), functionality, who will make it, what experience they have in this area and more. But regardless of which version of the platform you choose, the costs you need to consider are the following:
• Costs for production (programming) of the online store.
• Purchase a domain .
• Purchase hosting . Before you buy hosting, be sure to check the system requirements of Magento. It is even better to choose a hosting provider who has experience with online stores made with this particular platform. If the servers are not suitable, your online store will be slow, and this will definitely worsen its performance.
• Purchase a template (design) of your e-shop. If you decide to buy a ready-made design for your online store, keep in mind that you will get what you paid for. Ready-made designs can do the job for you, but they don't offer a high level of personalization and flexibility. Of course, they can be changed and acquire a more authentic look, but you need certain skills.
• Purchase of extensions (plugins). A large number of ready-made extensions are available for Magento. You can use them to add new features or enhance existing ones. There are some that are free, but always check their ratings and what levels of support they offer before using any of them. If you can't find the ready-made plugin you need, you may need to order it.
Recommendations
1. Choose a company that has experience in making e-shops with Magento. If the price seems too low, you will probably get what you paid for.
2. Creating an online store, regardless of the chosen platform, is not a one-time process. For your e-shop to work well, it needs to be maintained and updated.
Conclusion
Each project requires a different approach, time and effort. No two businesses are alike, and it is logical that the goals they want to achieve will also be different.
The only sure way to find out how much it will cost you to build an online store with Magento is by talking to an experienced programmer. Provide him with the information he needs - what your business is, what you expect your e-shop to do and what you want to achieve. This will help him determine how complex the project will be to implement and how much it will cost.
Of course, you should keep in mind that if at some point you decide to add new functionality, you will have to pay for this service separately.
A good programmer will keep you informed about what is happening with your project - so you can rest assured that the final price will be good for you.
More information about what Magento is can be found in the video below:
If you have questions about creating an online store with Magento, you can contact us at tel .: +359 2 850 53 64, e-mail: office@nitbg.com, or by filling out the contact form below.