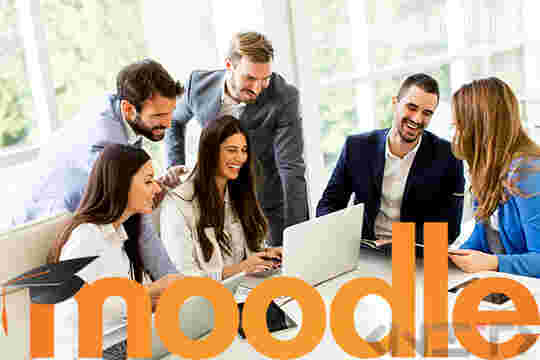 When the project was launched in 2002 for K12 and higher education institutions, none expected that the distance learning system would gain such big popularity in the corporate world. However, organizations around the world became quickly aware of the business application of this open-source software that you can download and use for free.
How to use Moodle in the business
From the very beginning, the remote system has been used in organizations to achieve impressive business results in on-boarding and staff training. There are numerous examples. However, we have selected the top 10 most common ways to use Moodle in the business!
1. Onboarding of new employees
The distance learning system is commonly used in the on-boarding process of new employees. If you happen to work for a medium to large organization, your onboarding training most probably consisted of a thick stack of paper crammed into a large folder. What a great way to be welcomed in the company! With Moodle, the induction process can be much more smooth and engaging for new employees. Human resources managers will value the opportunity to provide course modules with much easy-to-complete onboarding training and the additional benefit is that the test results can be systematized and analyzed automatically, the courses can be copied so that there could be done Modifications for the different departments. If creating introductory training (on-boarding) You find it difficult or you need help and guidance, please contact us - we have experience.
2. Mandatory corporate training
In addition to onboarding through Moodle, coaches value online training opportunities because they can easily reference who has successfully completed compulsory corporate training and who has not. The Moodle Badges plugin enables people to be rewarded when they successfully complete their training. You can see some of the corporate training we have developed here.
3. Competency-based training
Through the Competence Module, training departments are equipped with the ability to define competencies so that when passing a specific set of trainings, employees can acquire the desired competence or competence. Thus, when the employee has completed competency-based training, the employee and the training manager can see the competences acquired at the end of the training.
4. Workplace Safety Training
As for the rest compulsory training, and in Workplace Safety training, Moodle lets you know who has completed the compulsory training and who is not. With the ability to add video, discussion questions, forums, quizzes, and external resources, the Work Safety training place can become easy and useful for absorption. An additional advantage is that the training can be switched to convenient for the learner's moment and place.
5. Developing online courses
The remote system has many tools for creating dynamic, interactive and engaging online courses. With multiple modules for synchronous and asynchronous learning activities, employees have a variety of ways to learn during working hours or when they are free. With the tools to build courses in the online training system, you can easily implement eLearning programs - in their own form, self-contained and mixed-type. You can check out the online courses we offer here.
6. Supporting the process of hiring and interviewing new employees
The distance learning system is not designed to be a human resource management system, but we know of several organizations that were innovative enough to use it to recruit and interview new employees. Without going into technical details, a law firm uses an on-line training system so that candidates can create their own profiles, upload their CVs, and test for their competence. Then the decision-makers review the biographies and the motivation letters. On the basis of working with the software and other participants in the process, they make decisions for the right candidates. We can help you with this because we have been involved in the entire process many times and know what you will need.
7. Maintaining a knowledge base for products and services
In today's business world, products and services are upgrading at an ever-increasing pace, so it's important to note that learning to learn about company products is not a one-time event. The process of acquainting with products and services is a continuous educational task that changes with the emergence of new customers, new features are developing or new knowledge emerges. The distance learning system makes it easier to solve the educational task of teaching people in all departments, and even provides selected access - for example, only to the product knowledge required for functional teams or sample sales department solutions!
8. Creation of informal communities
There are many informal groups of people in the business community who have common goals and interests and who work together to teach and learn from each other. The online training system is often used by businesses to help employees contact experts on specific issues in their tasks. In these informal communities, users can ask questions or search discussion forums to find the knowledge they are looking for.
9. Realization of continuing education
Given that Moodle is originally intended for universities providing higher education, many corporate organizations use this distance and e-learning system to provide people with continuing education opportunities to help them continue their careers. We see daily that many of our customers offer leadership training, management training, and merchant courses that want to improve their skills. In the virtual academy of Online-learning.bg has a number of courses that can be integrated into your e-learning platform.
10. Providing training to clients and partners
One of the best things about Moodle is that it's easy to allow clients and partners, special sections to create training or give access to courses with information you want to learn. This facilitates the training of customers, channel partners and business partners at a low cost.
We can assist you in all steps of introducing a distance learning system in your organization - consultation, technical assignment, configuration, customization, integration, system training, technical support, maintenance. We can help you create e-trainings and interactive elements for your system by creating an e-learning course for you. Of course, you can choose some of our ready corporate training in SCORM format, which can directly fill your training library.