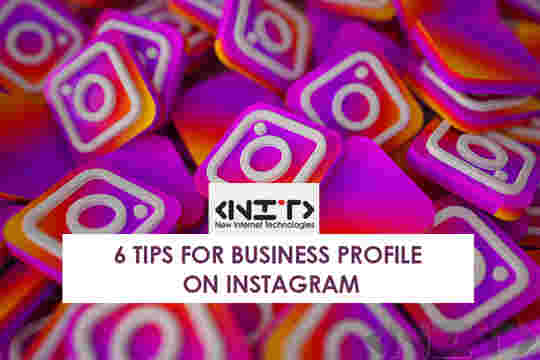 Instagram is an online mobile social network that serves to share photos and short videos. Your business doesn't have an Instagram account yet?
What are you waiting for? Do it now!
If you're selling any kind of physical product, you have a store, or you want people to recognize your brand, it's time to create a Business Profile on Instagram. And you will definitely not be the only one, because number of Instagram profiles has reached more than 25 million, and as you can guess, it continues to grow. The social network is too popular to be ignored. Wherever your buyers are, it is always at their disposal. Which means you need a really good marketing strategy to advertise successfully in it.
To make it easier for you, here are some tips to help you get the most out of Instagram.
Did you know that this network mainly publishes images? So you need beautiful photos!
And now tip number 1: Think carefully about your audience
This is of great importance. You can create the most beautiful posts, but if the target buyer doesn't like it, what's the point? Take the time to find out who your audience is. Once you've used Instagram for marketing, you need to consider if your followers are potential buyers. Remember - the more Instagram Followers, the better!
How can you learn more about your audience? Try Insights from Instagram! It has the same functionality on Facebook.
The tool offers:
Impressions: How many times has the content been viewed.
Reach: Total number of unique profiles who have seen the contents of your account.
Clicks: How many clicks your business profile link gets.
Follower activity: How often your followers in Instagram interact with content.
Video views: How often do they watch videos shared in your account.
Saves: How many people have saved your posts.
The data also includes demographic information so you can see where your followers are coming from, their age and gender. It's a good idea to keep track of the keywords on Instagram that are important to you. These are #hashtags or labels that you or your competitors have created. Look for images and styles that have become popular, and consider creating similar content.
Tip number 2: Talk to them
Social media marketing is no excuse to spam your followers for sales only. It is vital to try to get as close to your followers as possible. It makes your company more human and less corporate. The more users share and comment on your content, the easier it is for new users to find it. Instagram's algorithm gives priority to higher engagement content.

Here are some techniques for fostering engagement and interaction with your followers:
Share their images: This means showing appreciation to anyone who posts copyrighted content. And when you prove that you listen to your audience and want to get feedback, you create a better image for your brand.
Ask them questions: This is one of the best ways to get social interaction from your audience. One of the easiest ways to do this is through contests. People like to have the opportunity to take part. Examples you can use: "Name this photo…", "Share a photo when…" "Tell us how this photo made you feel…". Challenge the audience to show their creativity and make sure you share the best answers. A great example is the Swiss watch SEVENFRIDAY. Fans are asked to share photos of themselves wearing their SEVENFRIDAY watches when on vacation or in their cars to show the product in action. The result is amazing: a huge collection of free marketing images.
Tip number 3: Use relevant #hashtags
The hashtags # help you organize and categorize images and videos. This is an easy way to tag your content to make it more accessible to your audience.

Here are some of the best practices:
Don't overdo it: five but correct hashtags are better than 25 random ones.
Avoid using the most commonly used hashtags: adding #love or #instagood is not a good idea.
You don't have to spam: choose the right labels for your images.
Tip number 4: Share at the right time
Studies have found that the best time to post on Instagram is between 5pm and 7pm. Easy - post all your photos then! Follow the publications of your competitors.
Tip number 5: Create beautiful visuals
Publishing content is vital for social media marketing. This is what makes your Instagram Followers committed to your brand and encourages them to come back for more. In other social networks, this can mean sharing links, posting interesting articles and having conversations. On Instagram, it all starts and ends with images. The entire network is designed for people to share their photos. Aside from taking great photos, how can you make your Instagram content more appealing?
Choose a topic! The best business profiles on Instagram usually have a main theme or tone. You need something that inspires or intrigues followers, something beyond products. For example, Under Armor uses the hashtag "#IWILL" and its posts are almost always related to physically overcoming obstacles.
Tip number 6: Add call-to-actions
On Instagram, it's a little harder. The web allows only one link - that in your bio. So you can't insert links in captions, comments, or the image itself. How then can you create a CTA? Smart marketers have developed several strategies. Use in your posts: "Link in BIO" or "Link in the description".
Like vs. comment
This strategy also works well on Facebook and Twitter. Take a quick poll with your followers and let them vote with "like" or "comment". This is an easy way to increase engagement.
As an alternative, you can ask users to choose "A" or "B" in the comments section. If you sell shoes, ask your followers to choose their favorite color. If you are a university student, let them choose their favorite uniform for the basketball team. Make it fun! But most of all, help your followers do what you need to do. If you need to share your content, show them how. If you want them to buy, make it clear and easy.
Tip number 7: Use Instagram stories
If you're an Instagram user, you already know about Stories. It is located at the top of the app and allows followers to see multiple consecutive posts from the same user.
This is a great gift for traders! You don't have to try to convey your whole message in one image. You can collect several of them to show your story.
What is Instagram Story?

The stories differ from the usual Instagram posts in several key ways:
These images pass from one to another in a slideshow;
Each image is deleted after 24 hours;
Because the images are full screen, there are no captions;
Other users cannot see comments.
Don't worry about your stories reaching your followers - they are positioned at the top of the app and users can scroll through them and see the ones they like.

Add a link to Story, this is a serious weapon when you have a specific goal you want to achieve. However, the conditions for having this opportunity are two - to have a business profile and 10,000 followers. Therefore - get to work!
Highlight Stories is a new tool on Instagram, through which you can save Story after 24 hours and position it in your profile by topic.
Interesting facts:
What do you think is the most used #hashtag? "You guessed it!" Of course it's #love!

Which celebrities in Bulgaria are most wanted on Instagram? - We will help: these are the profile of Nikoleta Lozanova, Nikol Stankulova, Zlatka Raykova, Valeri Bozhinov, Crisco.

And from abroad, the most sought after profiles of celebrities are

:

Cristiano Ronaldo, Nina Dobrev, Philip Plein, Selena Gomez, Justin Bieber.
These were useful tips, and now it's time to implement them! We can't wait to see your profiles!
Source: Mention.com .