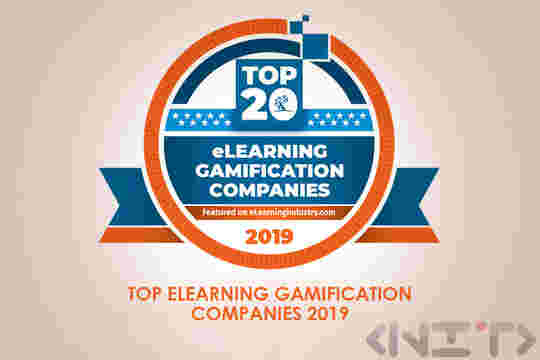 Leaders in the e-learning community, the e-learning Industry, have created a list of the best gaming providers. Focused on the prestige, impact, activity and innovation offered by the esteemed Candidates, the e-learning industry focused on the top 20 among them.
"The following 20 companies are among the top performers doing their best with the content they provide. They put a lot of care into their ongoing development and offer a wealth of experience in the field of gaming. "
We are happy to inform you that NIT - New Internet Technologies Ltd. is among the selected specialists in the ranking! The evaluation is carried out according to several basic criteria. These include:
Quality of gaming services;
Customer feedback;
Experience in e-learning design;
Specialization in the field of gaming;
Innovations in the gaming industry;
Social responsibility;
Features and features in the field of gaming.


E-Learning Indrustry provides NIT - New Internet Technologies Ltd. with a special badge, which is an important distinction for the company's services. We will proudly carry this proof of the quality and satisfaction we provide to our customers.
What is Gamification?
In today's fast-paced and information-filled world, retaining the attention and concentration of learners is becoming an increasingly difficult task. The need for a more attractive and intriguing way of providing study material is increasing. That's why gambling comes in handy - an innovative teaching method that makes memorizing the information taught easier and more fun.

Turn your eLearning courses into an exciting experience for your students! NIT - New Internet Technologies Ltd. has extensive experience in the field of gamification. We create virtual, semi-virtual and real games through which learners will achieve longer-term and effective learning outcomes.