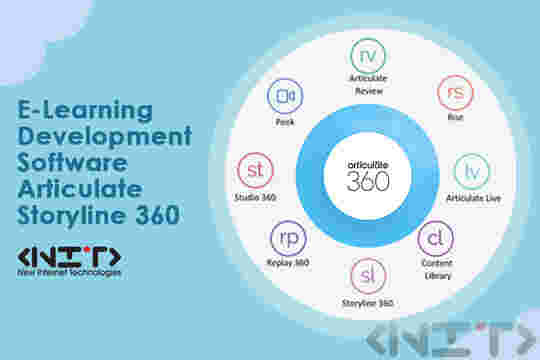 Articulate 360 is a product of Articulate launched in November 2016. Introducing it to the general public promised that every e-learning developer will have all the necessary tools to build full-fledged e-courses. Or to put it literally: "Everything you need for course development in one convenient subscription".
Articulate has two other pretty popular products: Storyline 2 and Storyline 3, sold with a perpetual license. What's new is that Articulate 360 is available on a subscription basis - with an annual renewal plan.
Articulate 360 includes nine applications: Storyline 360, Studio 360, Replay 360, Peek, Preso, Content Library, Articulate Review, Articulate Live and Rise. The subscription gives access to any of the above applications with the ambition to satisfy all the requirements of professionals while developing online learning content.
Lets take a look at the eLearning authoring tools one by one:
- Articulate Storyline 360 allows the instructional designers and developers to create interactive elearning courses that are responsive and automatically change to each screen size. With Storyline 360, one can create unlimited interactions easily enough for experts and beginners alike. The built-in library contains 1.5 million photos, vectors, icons and the built-in Articulate Review. Further, the application features a built in player.
- Studio 360 is a Windows compatible application. It includes Presenter 360 that can be used to create presentation-based courses and Quizmaker 360 - used to do questionnaires, surveys, as well as Engage 360 with which users can create media-rich interactions for online.
- Preso is an iPad application that allows you to create tutorials with text and photos, attach pdfs, animations and more.
- Replay 360 is a video recording application for creating tutorial videos. It is very convenient for recording on a computer screen and creating tutorials for software programs.
- Articulate Review is a commentary application that can be used to gather all the comments for a course, regardless of which Storyline 360, Studio 360, Replay 360, Peek or Preso application is made. Communication between members of the course development team has been enhanced and localized in one place.
- Peek is designed for screen capture, which you can customize and change directly while recording. Easy to use as sharing can be done directly with link sharing.
- Rise is a software designed solely to easily create responsive courses, very easy and user-friendly for any designer and developer.
- Articulate Live is a service part of the famous online support and user communities, which offers webinars designed weekly for experts from training and development teams.
- Content Library that contains an impressive amount of about 1.5 million photos and professionally designed templates included in each client's subscription.
Articulate 360 subscription rates:
The annual Articulate 360 subscription for new users is $ 999 per user. There is a significant reduction for scientific and educational organizations. For users of Articulate products - Storyline 2 or Storyline 3, there is a 1 year discount on Articulate 360 subscriptions. The subscription is always annual and no monthly subscription is currently available.
Does the new product appeal to customers and experts?
There are various reviews for Articulate 360.
What users like:
New users like 'Articulate Review' because of the ability for training designers to work in a team and coordinate training and correction efforts without using spreadsheets.
'Articulate Rise' can create a training design that is completely responsive. It incorporates 7 types of pre-made e-learning designs, allowing eLearning developers to quickly create interactive learning sessions while checking the learning of different mobile devices such as a tablet, phone, and more.
Original Storyline users who have switched to Storyline 360 think the new software is more intuitive and transitions are smoother.
The built-in professional template and photo library in Articulate Storyline 360 also captivates designers.
There are also some disadvantages.
Previous Articulate customers, even though they have a perpetual license for Storyline 2 and Storyline 3 products, cannot use Articulate Storyline 360 unless they purchase a separate subscription. The cost of the subscription makes it difficult for small businesses, freelancers and schools. The difficulty is also highlighted by the fact that in order to use it on a Mac, Articulate Storyline 360 needs additional software.
Another annoying fact is that freelancers often don't need all the applications described above, and buying the whole package puts them at a financial strain.
Of course, time and the market will show how the Articulate 360 software will evolve, but the fact is that Articulate is strongly recommending it, highlighting its rich functionality and capabilities.