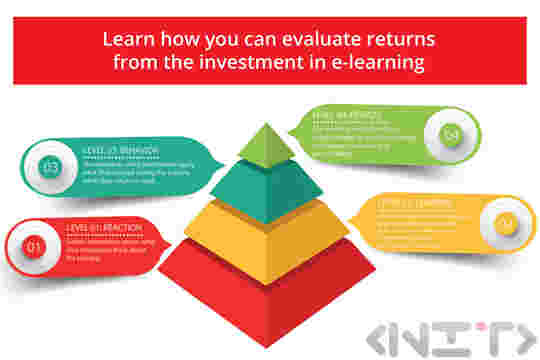 How to measure and analyze the return on investment (ROI) under the employee training program and the implementation of corporate e-learning in the company?
When starting an employee training program, it is important to know how to measure and analyze return on investment. The Kirkpatrick model is a simple but effective method used to see the impact of corporate learning in an organization.
The return on investment in eLearning (ROI) is a calculation of the benefits that the organization receives from the provision of online training in relation to the invested funds. A method for measuring the return on investment in eLearning uses Kirkpatrick's valuation model. Originally developed in 1959 by Donald Kirkpatrick, the model has been redesigned several times and remains one of the most popular ways to track the ROI of training. This is a clear and practical approach to assessing how successful the training of your employees has been. The model has 4 levels - reaction, learning, behavior and results.
We implement e-learning and LMS in organizations, companies NGOs, schools and universities
How does the Kirkpatrick model work?

Level 1: Reaction - gather information about what employees think about the training
The key words are: satisfaction, commitment, relevance of e-learning.
Your task: How do your employees respond to the training? This is a critical indicator for measuring its success. Not only does it give you information on whether or not they like the training, but it also gives you an idea of ​​aspects of the training that are not working or need improvement in the eyes of employees. All the information you collect should give you the opportunity to improve your training in the future. The information gathered will enable you to create a better user experience for learners. Feedback on course content is also crucial, as you need to know if your employees are actually getting value from what you deliver. Gather information about the strengths and weaknesses of the course content so that you can adapt it to better meet the needs of consumers. Reports generated by The LMS system, and based on the percentage of commitment and completion, will also give a clear indication of what works and what doesn't. Look beyond the content of the course. The way your employees evaluate the use of your LMS is crucial in the training process. Ask if it is easy to use the learning management system, or is it difficult for them to navigate. Also ask how they could be better supported during the learning process, as this will tell you if they need more time to learn if they are struggling to find resources, etc. A good LMS will have several convenient ways to gather and compare opinions and feedback from learners. Surveys, reviews of courses and forums - These features are invaluable to you when collecting user feedback. Or why not ask some employees in a simple conversation? Even though you get bits of information, in the end everything is valuable.

Level 2: Learning - this is the moment when employees acquire the planned knowledge, skills, attitude, confidence and commitment based on participation in training.
Knowledge: "I know it.". => Skill: "I can do it right now.". => Attitude: "I believe this will be useful to do in the workplace.".
New additions:
Trust: "I think I can do it at work.".
Commitment: "I intend to do it at work.".
Your task will be to identify the real impact of your training. Find out what your employees have actually learned through training. This is an important step, as it allows you to really explore whether your employees are actually learning what you need. With our LMS you can easily check whether your employees acquire the right knowledge through evaluation. If you create the required number of tests and tasks during the courses, you will determine whether the content of the course fulfills the goals you have set. Then, by reviewing the success/failure levels and feedback from the instructor, you can assess whether the course content is working.

Level 3: Behavior - The degree to which participants apply what they have learned during the training when they return to work
Use processes and systems that strengthen, encourage and reward work.
Your task: After completing the course, it is time to measure the impact that the training has on the daily behavior of your employees. By assessing behavior, you gain a holistic understanding of the skills and knowledge acquired through training and how people apply what they have learned. You will need a longer time and more investment to measure it than measuring the first two levels. Behavior is a little difficult to measure, but not impossible. Again, this comes down to two elements - feedback and reports. Simply put, you need to contact your employees and ask how they used what they learned and how they believe it has affected their work. Here you need to be imaginative and use all available sources, comparing the results obtained from your LMS reports, opinions,collected by employees and actual observations of changes in behavior.
Level 4: Outcomes - The extent to which the results sought emerge as a result of training and support and accountability measures.
Leading indicators. They are performed with short-term observations and measurements on key critical indicators and behaviors.
This is the most important moment for business. It measures the overall results you achieve from the introduction of employee training and development - your number one goal. Again, this is an indicator that will not be measurable immediately. This is a long-term goal that takes time. And of course, there is no single method for measuring this. For example: If your goal was to make your workforce more productive, look at the tasks your organization accomplishes over a period of time and compare them to the level of productivity before the training takes place. For more retention, review the turnover and satisfaction levels of your employees. And for faster and more successful entry of new employees, analyze how quickly newcomers have managed to successfully fulfill their role compared to those who have not received onboard training, for example.
Continuous measurement of these four aspects reveals the true return on e-learning. If you take into account the feedback from employees and take full advantage of the functions of the LMS - reports, studies, evaluations, etc. You will be able to measure, adapt and provide a training program for employees that helps your business achieve its important goals. What is crucial for assessing the return on an employee training program? Every single moment of the process described above is of great importance.
We implement e-learning and LMS in organizations, companies NGOs, schools and universities
But let's ask ourselves: does the quality of the distance learning system itself matter? Will it allow us to gather these important pieces of information, will we be able to "catch" the moods, the results, the opinions ...?
A full-fledged platform, such as the one we offer, will support the training departments at all times and will provide the information needed to calculate in a sufficiently reliable way the return on investment in e-learning of employees.
We offer consultations and services for the implementation of distance learning of employees, distance learning systems, development of electronic training for onboarding training, electronic courses for working with MS Office products, commercial and soft skills.