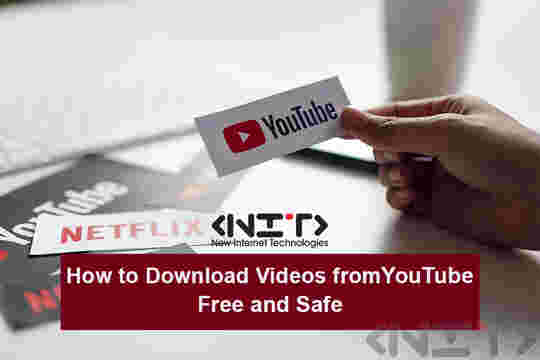 Sometimes your favorite YouTube channel is unavailable. What is the solution? How do I download a video from YouTube? When you download videos on YouTube, you can watch them without an Internet connection, which is ideal if you are traveling by plane, train or in locations without reliable mobile Internet access. You can watch the downloaded video even when your mobile internet is limited. You can download videos on your home Wi-Fi and watch them without exceeding your internet limit.
Is it legal to download videos from YouTube?
Using third-party video download applications on YouTube is contrary to YouTube's terms of service - which state that you can only stream videos directly from its servers. Downloading videos on YouTube also confronts you with potential copyright infringement unless you have permission from the copyright holder, the video is in the public domain or you own it.
For some time, YouTube itself has provided some tools for downloading videos (both on your desktop and mobile devices) if you have an account, but the number of downloads is limited and you need to switch to the premium paid version.
However, it's surprisingly easy to download videos from YouTube and other such sites! You can do this for free without even having an account.
There are many programs for downloading YouTube videos to your hard disk, phone or tablet. Most of them are free. Such programs are Freemake Video Converter and Freemake Video Downloader.
In what formats can you download videos from YouTube?
Video download programs usually let you choose a number of formats in which to download the video. The most common formats are MP4, 3GP, AVI and MOV. Choosing the format and download settings will affect the quality of the video you have downloaded.
If you don't care a lot about quality 3GP is the format for you. This format is perfect for the small screen of your mobile phone, but it's awful to watch it on a laptop or computer. The best video format, which is of high quality, does not take up much disk space, is MP4. This format is also compatible with most devices - computers, smartphones, smart TVs.
You don't even need to download a special video downloader from YouTube. You can do this by using a browser plug-in or simply by placing the video URL on the site of a suitable service.
1. How to download the video?
- Go to www.youtube.com and find the video you want to download. Copy the URL from your browser's address bar.
- Open any of the sites that offer online downloads and click in the box to the left of the "Download" button. Press "Ctrl-V" to paste the copied URL and hit "Download". You will see the available versions of the video that will appear below.
- Select the desired format from the list. For better compatibility, choose MP4 as well as the highest quality (1080p or 720p). Then just click on the link to start downloading the file.
2. How to download YouTube music to MP3 format?
Sometimes you may want to download only audio from any YouTube video. The process is almost identical to the one described above. There are sites like https://2conv.com/bg30/youtube-video-downloader/, where once you paste the video URL, it can be directly converted to the format you choose. If you only want to save music, select MP3.
3. How do I download playlists from YouTube?
If you want to download many videos or playlists then you need ChrisPC Free VideoTube Downloader. When installing the program, be careful not to install any other unnecessary programs, so read the instructions and information carefully before clicking Decline.
4. How to download YouTube videos directly to your smartphone or tablet?
There are many free apps you can find on Google Play and the App Store, but TubeMate for Android and Tube Downloader for iPad and iPhone work very well.
To date, one of the most used training channels is YouTube videos. E-learning often has YouTube videos as additional resources. It takes the ingenuity and skills to select the best videos created by professionals that contain the most useful information on the topic.
Training creators of NIT - New Internet Technologies Ltd. use YouTube videos to complement and enrich examples of e-learning, while strictly adhering to the requirements of the platform.