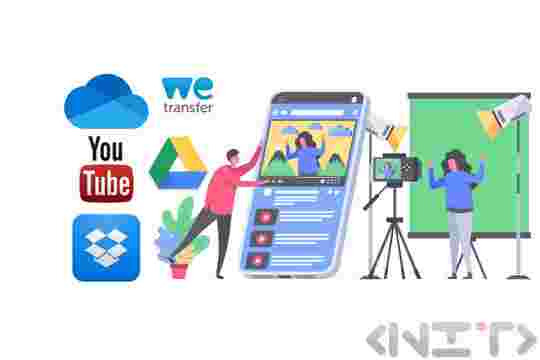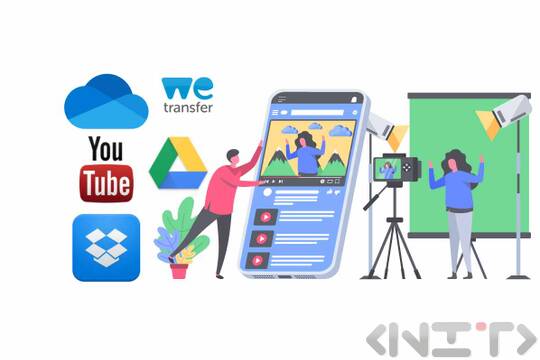 Believe it or not, there was a time when burning DVDs was the only way to share video files. When people needed to be trained the lecturer would arrive with 20-30 DVDs and hand them out to the attendees. This whole process increased the workload by hours and made it difficult for everyone. Now we can have entire training films online so that trainees can watch them on the bus home, at home or on breaks at work. In life, it's good to follow the principle that you get what you pay for, but most people have a limited budget and want to find a free way to transfer and share the videos they work with or enjoy.
How to save if we have huge video footage and the video files make it difficult: they are hard to transfer and share.
Here's a list of 5 free programs you can use to share the video files with your learners.
1. Dropbox
Dropbox is one of the main cloud file storage services. It is very similar to the interface you would use on a desktop computer, with the ability to organize your videos into folders and subfolders. You can simply create a folder and share it with your team or learners, or anyone who needs the video in training. There's no limit to the number of folders you can have - so one per learner is perfectly appropriate You just put the video in there and that's it.
Free storage: 2 GB
Bonus: For every person you invite to Dropbox who joins, usually by sharing a folder, you get an extra 500 MB of free storage up to 16 GB.
Paid features: Dropbox only offers one paid tier for users: 100 GB for 7.99 GBP per month.
See How you can easily download YouTube videos
2. Google Drive and 3. One Drive
OneDrive and Google Drive offer many of the same features as Dropbox, although they are integrated into the Microsoft and Google ecosystems respectively.
Because Google Drive and One Drive are integrated with the operating system and office suites, there is much greater integration with your existing products and this has several advantages. Using Google Forms can be an excellent and seamless way to survey your students.
Free storage: 15 GB - Google Drive and OneDrive
OneDrive offers a bonus to encourage user recruitment: refer a friend to the service and you'll get 500 MB of extra storage up to a maximum of 5 GB (which is equivalent to signing up 10 friends). You can also earn an extra 3 GB of storage when you enable Camera Backup on iOS, Android, Windows, or a Windows phone to automatically save photos to OneDrive.
Paid features: OneDrive offers two additional tiers to its free service. You can get 100GB for £1.99 per month or 200GB for £3.99 per month. Meanwhile, Google Drive offers five premium subscriptions, with the price starting at USD 1.99 per month before taxes for 100 GB and going up to a whopping USD 299.99 per month before taxes for 30 TB.
4. We-Transfer - acts a bit like an email service for large (2 GB) files
You simply go to wetransfer.com, upload your file and enter the destination email address. The maximum file size is 2 GB at a time, but you can repeat the service over and over. However, this would not be ideal if you are trying to send a match to every player. This service seems better suited for one-off transfers.
Free: 2 GB
Bonus scheme: None
Paid features: 120 euros per year for sending files up to 10 GB
5. YouTube
When you upload a video, it is set to become "Public" by default, which means anyone can watch it. You can easily change the privacy settings of your videos. Select it while you're uploading the video, under "Privacy Settings". The private video can only be viewed by you and your selected users. The video will not appear on your channel or in search results and will be invisible to other users.
Free: Unlimited
In case you are interested in the influencers that have taken over YouTube and how they can benefit your business, you can learn more in our e-learning "Influencers in Marketing".

YouTube has two big advantages over other services:
With Dropbox, Google Drive, One Drive and We-Transfer, you upload files and that's it. Why is this important? It means you need to be aware of what the file format is. It's possible to upload 2 different versions of the same file - say for iOS and Android or MAC and PC. Keep in mind that video formats can vary quite a bit and not all formats can be played on all devices. It's just something to be aware of that can prevent you from sharing your videos with more than one user without a problem.
Another issue is streaming video files. YouTube converts the file into web-friendly version(s). So if you are in the countryside with poor internet service, YouTube will provide the best available file the internet can handle - it does this calculation in real time. Let's say you uploaded a Full HD video to one of the other services Dropbox, Google Drive, One Drive, We-Transfer - that's what will be fed to the user on the other side regardless of their broadband speed and internet access.
If you need consultation or online course development services, contact us.