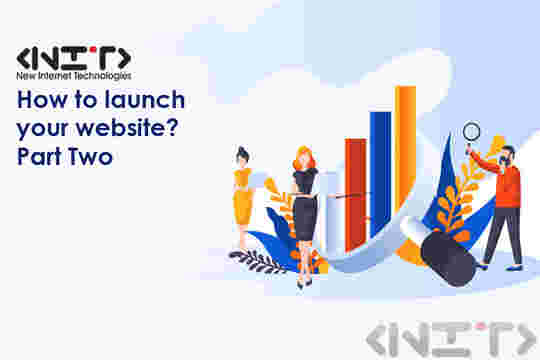 How to launch your website: To build your website on your own or to hire a company?
You can find many free or paid content management systems, but you should be careful when you make your decision. What at first glance looks like an easier and cheaper option, usually does not give the expected results.
If you do not have any experience in website development, even the usage of a popular platform may be challenging. You will need time to learn how it works and you will need some HTML knowledge. Therefore, we advise you to invest and hire a software company to build your website. It is hard to say how much a website will cost, because the price depends on many factors, such as number of website pages, number and complexity of website functionalities, etc. However, hiring a company is the best decision, as professionally done work will pay off in time.


How to launch your website: Choosing a domain name
The domain name is what people write in the browser bar in order to find a specific website. The main things to keep in mind, when choosing a domain name are:
• Your domain name should be short and memorable.
• Your domain name should not contain numbers.
• Your domain name should not contain acronyms or abbreviations.
• If possible, use popular extension, such as .com, .eu, .org, etc.
How to launch your website: Choosing a proper hosting plan
Web hosting is an important part of website development and security. This is the place where your website will be hosted. Most of the small businesses cannot afford to host their websites on their own servers. Therefore, they need to find a reliable hosting company.
There are three main types of servers - shared servers, own servers and cloud servers. Shared hosting services are usually the cheapest, but if you share one server with websites that are regularly loaded with big traffic, your website performance may become worse. If you decide to use your own server, your website will be the only one hosted there. However, this is an expensive service and you have to keep in mind that it will cost you much more. Cloud hosting is a new kind of web hosting, which allows websites to work in an online server infrastructure. Cloud hosting usually provides very high-quality service in terms of speed and scalability, but hosting the information in the "cloud" raises the issue of network security.
The main advice we can give you is to choose a hosting that will meet your website requirements. You may consult with the company that is going to design and develop your website and make the best decision.
When you choose your hosting, you have to keep in mind a few more things:
• Make sure that the technical support is 24/7.
• Find and read customers' reviews about the services, offered by the company.
• Make sure you can expand the capabilities of your hosting plan, if the requirements of your website change over time.
Our next article will be the last from the series 'How to launch your website?' We will introduce you to three main issues, related to the development of your website – core functionalities and creation and management of content marketing.