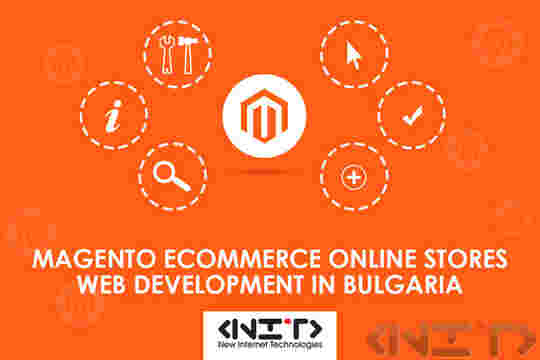 Of course, this is completely understandable – much of our world has moved into the virtual reality. People's needs and
perceptions have changed, leading to a new company's offers and solutions.
In order to stay in touch with the new trends and to meet our clients' requirements, we, NIT - New Internet Technologies Ltd., one of the top Magento Agencies in Bulgaria, offer web design, development and support services based in Bulgaria for Magento 1 & 2.
Magento is one of the most popular products in the sphere of e-commerce. Its first official edition was launched in 2008 and according to recent surveys, it was used by 1 % of all web sites, spread around the world and takes a prominent place among the 20 most popular platforms for online trading.
The online store system Magento has three editions: Enterprise, Magento Go and Open Source. You can learn more about their functionalities, reading the following line.
Enterprise Edition
This is a paid version, but we cannot disclaim that its price is fully justified. You gain countless opportunities for increasing your sales and reaching new customers. You can also use many extensions and its flexible structure allows adding of additional functionalities and integration with similar systems. The software can be used on desktop and mobile devices. It is preferred by large and fast-growing companies that can rely on qualified support for their online stores.
Magento Go
Magento Go is a cloud service, hosted by the company that created the product. This service greatly facilitates its user - they do not have to engage with the processes, connected with the installation, configuration, and maintenance. This version of the platform, however, is at least customizable.
Magento Go is a product, suitable for small businesses that have little or no experience with e-commerce - its functionalities are sufficient and the price is very affordable.
Open Source (Community Edition)
This is an open source software that can be downloaded from the official company web site for free. Its functionalities are fewer, but enough for the purposes of most online traders. This version of Magento also has a flexible design, intuitive interface, marketing and SEO tools, tools for catalog management, etc.
The product's accessibility, however, does not mean that its initial form is ready to use. There are a lot of things that has to be done in order to meet the client's purposes.
Our team has a rich experience in the creation of online stores and, using Magento for the development of many of them. We offer the following services:
design;
configuration;
installation;
modules development;
modules and payment systems integration;
capturing and processing products photos and images that will be used in the online store;
products filling;
connection with payment and storage systems;
optimization;
support;
hosting.
Explore the online stores that we made with Magento.
http://www.cosmetic-brushes.co.uk/
http://www.cornelissen.com/
http://www.robco.co.uk/