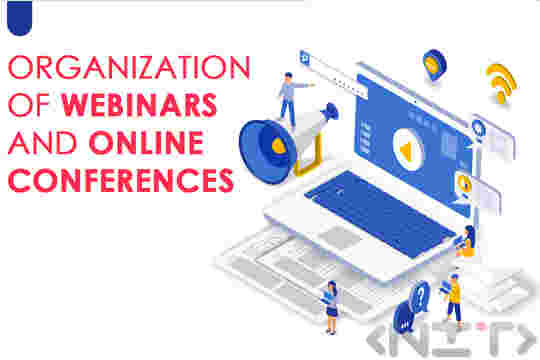 The events are organized online with a scheduled date and time. Users usually receive a link, which gives them access to the specific webinar. There are two ways to gain access – first, users can join directly via a link and second, users have to be pre-registered by the administrators of the webinar and receive a personal account and access.
The functionalities of the webinar system that we offer are listed below, but if you need further clarification, please, do not hesitate to contact us:
• User creation and account creation - not obligatory.
• Integrated sound - VoIP.
• Multiple speakers.
• High sound quality.
• A wide set of tools - options for pointing, drawing, attention, etc.
• Common "whiteboard" - possibility for showing pictures, slides, handwriting and drawing.
• Content and media sharing - PowerPoint, PDF, DOC, XLS, TXT.
• Screen sharing - giving and taking remote desktop control.
• Live video sessions.
• Simultaneous browsing - you can take your audience to a specific web page.
• Chat and session notes - the chat option gives you the opportunity to communicate It can be launched and stopped at any time, and the record of the chat session can be downloaded.
• Online polls.
• Creation of user groups.
• Option to record every session without any limitations, you receive a link to the record and can give it to the users to watch whenever they want.
• Statistics for every session.
Additional Information
A webinar is a seminar conducted online via video conferencing software. The biggest plus of webinars is their interactivity - they provide a quick and easy way to exchange and discuss information.
The various functions for session organization through questions and answers, polls, chat conversations, video sharing, presentations and many more, turn the webinars in an engaging and effective experience.
Usually, webinars are live events, but there is an option for session recording and making the records available for selected participants.
Who Can Use Webinars?
Webinars are a suitable tool for organizing and conducting various types of trainings (in schools, universities, companies), conferences, business meetings, seminars, and any other events that require communication and information exchange.
Which Are the Main Characteristics of Webinars?
Webinars have many features and functionalities, but most important are the following:
• Online communication.
• Usage of a specific software.
• Access, only, after receiving an invitation.
• Exchange and sharing of different types of files - Word, Excel, PowerPoint, videos, etc.
• Option for multimedia presentation of content - using audio, video presentations, "shared screen", "whiteboard", etc.
• Ability to interact with the participants - using chat, audio and video connection, etc.
• Defining roles and rights - moderator, presenter, etc.
• Statistics.
Benefits of Webinars
Accessibility
The prices of modern and quality types of software fall steadily, thus increasing their availability. In combination with a fast internet connection, webinars become effective and inexpensive way of communication.
The loss of the need for transportation, accommodation and leaseing of a conference room also leads to reduced costs.
Convenience
Besides money, webinars save time. Webinars give lectors the opportunity to choose date and time that are convenient for all participants - regardless of their location.
Flexibility
Thanks to webinars, users have the opportunity to visit different types of trainings and to orient themselves about what they want to hear and learn.
Easier Communication
Webinars provide participants with some anonymity. Thus, people who may experience difficulty or embarrassment to engage in a discussion in a traditional hall, obtain an easier way of expression.

What Can You Achieve Thanks to Webinars?
Benefits for Companies
• Introduction of a product or providing information about a new functionality of an already known product.
• Delivery of information on how your users can cope with the problems they meet using any of your products.
• Organization of corporate trainings, monitoring and analysis of their results.
• Conference organization - both with external partners or with the company's employees.
Benefits for Educational Institutions
• Possibility of offering free or easily accessible from a financial standpoint learning module.
• Quick feedback.
• Fast communication with learners and colleagues - in order to exchange experience and recommendations.
• Delivery of accessible training by an experienced specialist.
• Opportunity to watch the webinar record at any time.
• Provision of a step-by-step training - very useful functionality, especially for larger courses.
Factors that Determine the Price of Webinars
There are two main factors that determine the price of webinars:
• Number of webinars/month.
We form the prices according the following scheme - price for one webinar/month, price for up to 5 webinars/month, price for up to 10 webinars/month, etc.
• Number of users that will take part in the webinar, as the maximum number of users is 100.
Here we should mention that if you want to conduct two or more webinars at the same time, you will need to purchase the corresponding number of systems.