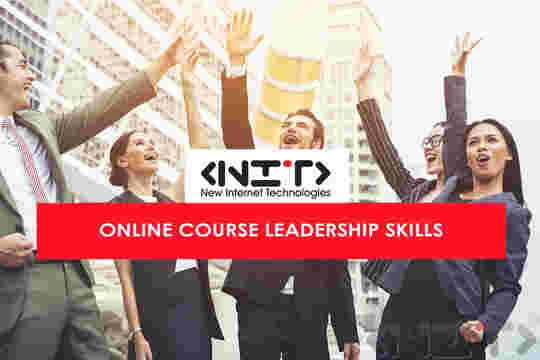 Course "Leadership Skills"
The e-learning course "Leadership Skills" will help you develop your team, improve your emotional intelligence, choose team building games and learn from contemporary leaders about their approaches to leadership.
Team development is the highest calling of every leader. The success of the leader is determined by the success of the people around them.
The present training is a continuation of the course "Basics of Leadership", which we created for you. Are you familiar with the basics of leadership and how to create your own leadership style? Do you have the qualities to plan and organize, lead and communicate? If the answer is yes, then this course is especially for you. You shall learn a lot of useful information about:
How can a leader develop their team?
What is emotional intelligence in the context of leadership?
How to choose the team building games that are most suitable for your team?
Examples of contemporary leaders: what have they achieved and how?
Would you like to be a true leader?
True leaders create a suitable environment for development. True leaders believe in their team and this feeling facilitates success. The best way to win and keep your people's loyalty is to show interest and care for them.
By developing your social skills, you will become a person who is easy to talk to, and people will learn to share with you, count on you, which will automatically enhance your charisma and attractiveness. How to become a leader with emotional intelligence? The term "social skills" relates to the skills you need to influence others' emotions in a correct way. This may sound like manipulation, but it is not. If you smile at someone, and he smiles back, is this manipulation?
Behind your decision to choose a particular activity as a leader there must be a goal – for instance, improving the problem-solving skills or enhancing creative thinking. Part of this training focuses on the questions you need to think about when you organize the next team building. In addition, we will offer three games addressing three of the most common problems of corporate teams.
In order to become an effective leader, you must understand how your own emotions and actions resonate on the people around you. The better your relationships with others, the more successful your work will be.
Syllabus:
Module 1. Team development
Module 2. Emotional intelligence in leadership
Module 3. How to choose team building games and sample games?
Module 4. Examples of contemporary leaders: what have they achieved and how?
The course includes:
Theoretical part: four modules. The theory comprises interactive graphs, tables, text files for download, case studies, examples, tasks.
Bonus topic "Management Skills and the Art to Manage". All you need to know about management skills and effective methods for their implementation. The skills that will make you a leader!
Going through the lecture material, you will have the opportunity to solve interim tests and self-assessment tests. They will not impact the final grade of the course and are aimed at revising studied content and evaluating your level of emotional intelligence, and your motivation to be a leader.
The final test determines the successful completion of the course. You will need a certain number of points to pass the test. You have an unlimited number of attempts for the interim tests, self-assessment tests and the final test.
The training contains a total of 102 slides, including sub-slides, which you will have to read through.