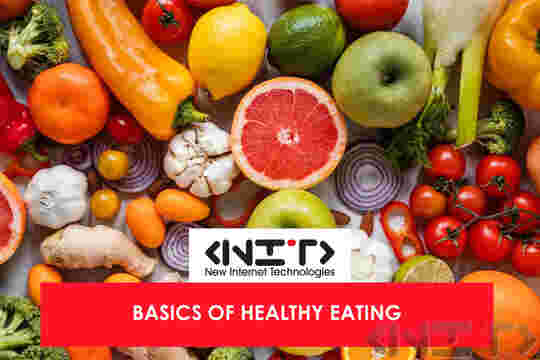 Nutrition is of paramount importance for the development and proper functioning of the human organism. In other words, if you take care to create a diet rich in key nutrients, you can be sure that you will enjoy a healthy, energy-filled body. In our training you will discover the most well-known diets and their features
Most likely, you know that a deficiency of nutrients, as well as their excessive consumption, can lead to serious diseases. For example, many people around the world are blind due to vitamin A deficiency.
The nutrients we look at in the training are divided into two classes - macronutrients and micronutrients. As you can guess from the macro and micro in their names, they differ in the amount of substances the human body needs to function properly. Most of our food is made up of macronutrients, and a smaller, but equally significant, amount of micronutrients.
Macronutrients include proteins, carbohydrates, fats, fibre and water. You will learn about them and their role in the human body in more detail in the training.
Micronutrients include:
What is their recommended daily intake? What are their dietary sources? Find the answers in the "Basics of Healthy Eating" training.
We cannot miss the water cycle. The water balance is maintained by a mechanism whose three elements are interconnected. These are: thirst, interaction of the kidney with the pituitary gland, osmosis. You will find out more about these in the training. Even if we don't feel it, our body loses water constantly. If you follow the above tips for proper water intake in training, you will feel the positive change in your body yourself. It will be hydrated, metabolism will work actively and fat burning will be activated.
Learn more about the nature of calories, calories in food, calorie content per gram for macronutrients, calorie burn, satiety index, empty calories, recommended calorie intake for men and women, tips for building a healthy diet, energy and metabolism, ATF, calorie deficit, safe weight gain, calories during pregnancy, thermic effect of food (TEF) in our Healthy Eating Basics training.
Contents
I. What is the process of "feeding"?
II. Nature and types of nutrients. Macronutrients
Macronutrients
Proteins, also called proteins
Types of proteins
Carbohydrates
Types of carbohydrates
Fats (triglycerides)
Types of fat
Fibres
Types of fibre
Beneficial effect of fibre
Water
Role of water in the body
The water cycle
Tips for proper water intake
III. Nature and types of nutrients. Micronutrients
1. Phytochemicals (phytonutrients)
Basic types of phytochemicals:
Coloured foods
2. Antioxidants
3. Vitamins and minerals
IV. Calories
1. Nature of calories
2. Calories in food
Satiety index
Empty calories
3. Required caloric intake
Tips for building a healthy diet
V. Energy and metabolism (metabolism)
1. Nature, functions and measurement of energy
2. Anabolism and catabolism
Anabolism (constructive metabolism)
Catabolism (destructive metabolism)
3. Energy balance - nature and method of determination
Calorie deficit
Safe weight gain
Calories during pregnancy
Determination of energy balance
Basal metabolic rate or resting energy expenditure (BMR/REE)
Thermal Effect of Food (TEF)
Physical activity energy expenditure (AEE)
VI. Basic diets
1. Plant-based nutrition
2. Elimination diet
3. High carbohydrate diet (HCD))
4. Low carbohydrate diet (LCD)
5. Ketosis, ketone/keto diet
Classic ketogenic diet (KCD)
Modified Atkins Diet (MAD)
Low glycemic index treatment
6. Intermittent fasting
7. Balanced diet (BDA)
Task
Preparation of colorful green salad with olives and feta cheese - completely online. You will be able to choose your own products for different number of servings. And at the end of the exercise, you'll also learn how to burn off the calories you've accumulated
Free materials in the training
Which foods contain gluten?
Weekly menu
Sources of vitamins in food
Calories in food
Are you ready for healthy eating and healthy living? Sign up for the online course "Healthy Eating Basics" now!